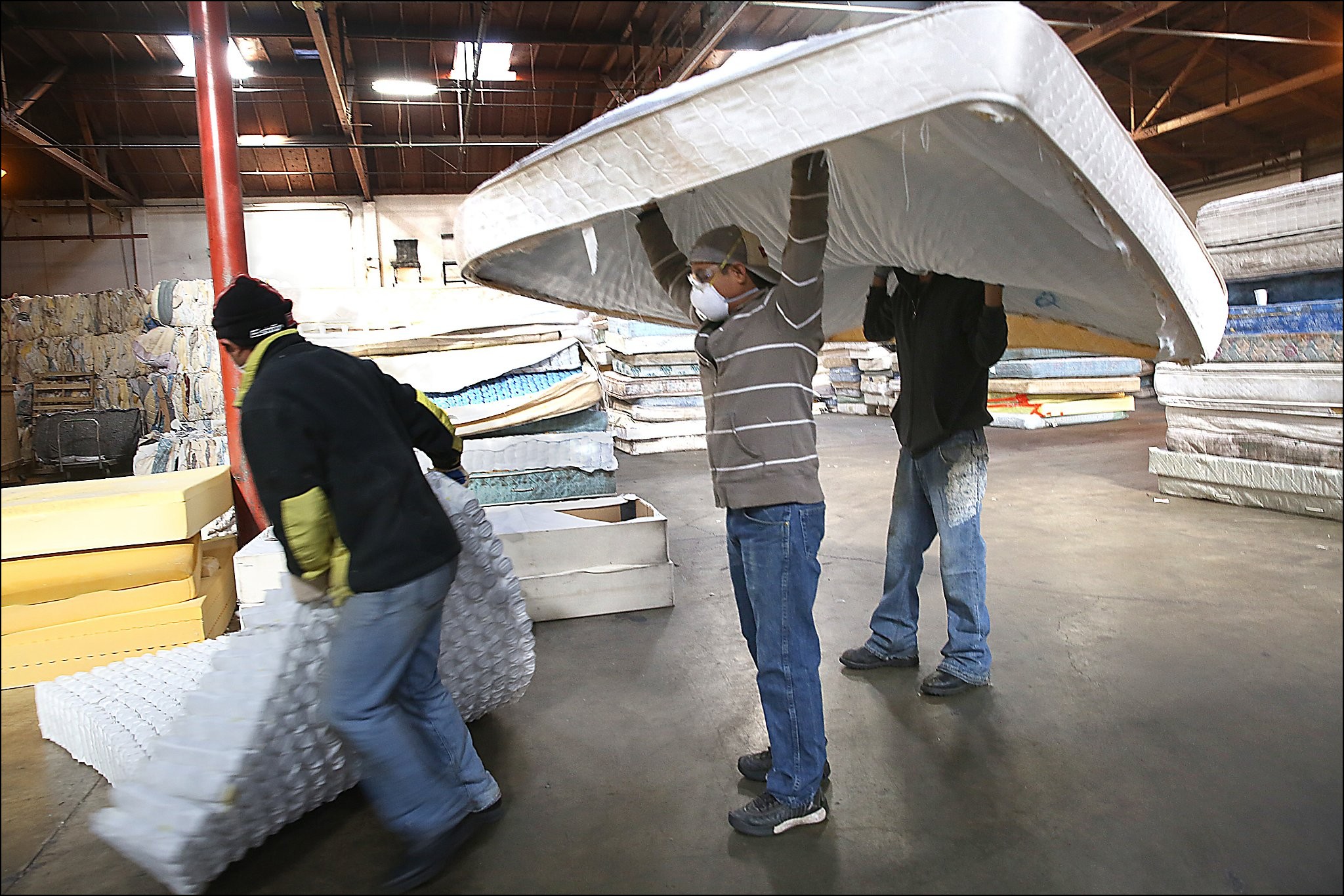 Removing Mattresses, Sofas, Dressers & Other Furniture
Is it time to clean-up around your home or office? Are you moving in the near future or getting ready for a renovation? If you need some extra space let Hagemeister come in and do the heavy lifting to remove your old unwanted furniture and other household junk. We will remove it safely with no hassle. Call today for a FREE quote.
Couches
Sofas
Beds
Dressers and Armories
Tables and Desks
Chairs and Stools
China Cabinets
Entertainment Centers
Lamps and much much more
Relax and Let Hagemeister Do All the Heavy Lifting
Are you unable to get rid of your old couch on Kijiji or Facebook? No takers at your garage sale? It may be time to consider calling in Hagemeister to dispose of your unwanted items. We can send two, three, four person crew to empty out your old junk to make way for your new items.
If you are looking to sell your home in the near future cleaning up the unwanted items that aren't making the move with you is a great way to increase the feeling of space in your home for prospective buyers. Hagemeister Hauling is a top Winnipeg junk removal service. We ensure your experience will be stress free, fast and reliable.
Reduce, Reuse and Recycle Your Old Furniture Today
Over the past decade plus Hagemeister has built relationships with a number of recycling insertions in the city of Winnipeg and the surrounding area. We can recycle or re-purpose old furniture in a number of ways. We aim to dispose of your junk in the most environmentally friendly way possible.The more junk we are able to keep out of landfills the better it is for everyone. Our customers appreciate when we are able to give well loved furniture a second home where someone else can enjoy it for years to come.
When you hire Hagemeister Hauling to remove your furniture we will inspect the items with you and advise the options for disposal based on the condition and materials used. Furniture that is worn out could still be recycled because the base materials such as metal or leather can be turned into something new. Reduce, Re-Use and Recycle with Hagemeister today!
Help Your Furniture Find A New Home
If your furniture is still in good quality condition Hagemeister will work with a number of organizations to ensure that your old couch, dining table, cabinet, or nightstand goes to a new home to be used and loved for years to come.
Hagemeister Hauling is proud to support local charities and nonprofits thru the donation old furniture and household items that can be reused by people who really need them. It's our way of giving back to the Winnipeg community that we love and serve. If you would like more information about what can be donated contact us today. Hagemeister will come offer a FREE quote on your removal and go over the best options for your furniture. We will do all the heavy lifting, loading and transport all you need to do it provide the junk.
Free, No-Obligation Estimate Before Any Junk Removal
Hover over the fractions to help picture what your estimated removal price is.
Frequently Asked Questions
What Our Customers Are Saying…
Great communication. On time. Called before they came. Polite. Clean. Fair pricing.
Adam Pagtakhan
2021-11-19
Arrived basically at the beginning of the time range they said they would, which in my experience, isn't generally the case. Were super professional, efficient, and accomdating as I kept adding more junk to the job on the day of. Highly recommend.
Amazing and affordable! They came the same day and were done clearing out the entire garage in less than an hour. Definitely 5 stars!!
They were willing to come within 1-2 hours after I called. We needed someone quick, and I'm sure they would have shown up as they were planning to. We had to cancel as a relative was able to come over with their truck. Will definitely use them when I need anything hauled away again!
Michelle Bergen
2020-11-08
This is the second time that I have used Hagemeister Hauling for junk removal. Ryan is super responsive, friendly, great to work with and the rates are very reasonable.
Spoke with Ryan, quoted and had a truck at my place first thing the next morning. Price was right, service was awesome and convenient.
it's a good service I ever have, I call to rent a 20 yards bin, they bring the bin ontime set up, when we done, I call to pick it up, they come to pick up right away. yes, I reference this service to anyone.
Very professional, prompt and courteous. The value for service is great too.
Was able to book quickly and was very impressed with the work. They were punctual, polite, and very efficient. Would definitely book them again.
Michael Phillips
2020-06-16
I have used this service multiple times and it is consistently high quality professional service. They make it real easy start to finish. Highly efficient
Hagemeister Hauling is ready to take care of your needs today!
Monday-Friday
7:00AM - 9:00PM
Saturday-Sunday
9:00AM - 5:00PM
Call text or e-mail Hagemeister today. Send us a picture of your waste or junk. Our experts will provide an upfront price and our next available opening.