Years of Hoarding? We Can Remove All the Junk!
If you have a home or property that has suffered from years of hoarding, you can only imagine what kind of cleanup lays ahead of you! For some it's just too much, not even knowing where to begin. When it comes to Winnipeg hoarding cleanups, Hagemeister Hauling is a trusted leader in the field of junk removal in Winnipeg and southern Manitoba area. From a garage, bedroom, basement or other areas to the entire house – no hoarding cleanup is too big for us!
Our Winnipeg junk removal crews are trained and experienced in hoarding cleanups. We understand the sensitive nature of hoarding. Hoarding can be dangerous for the health, safety and fire hazards it poses. We'll help you get rid of the hazard and the junk.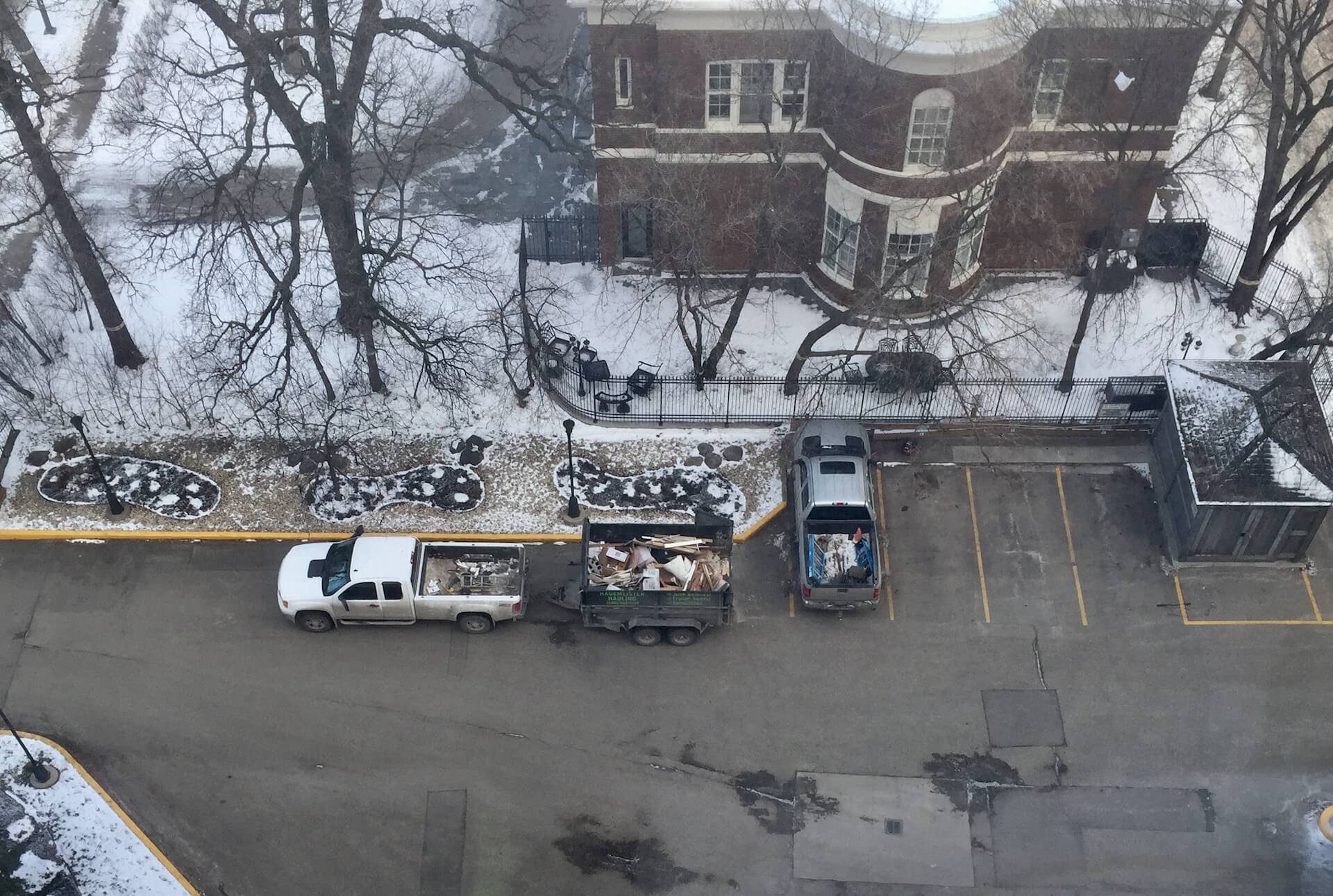 Cleaning Up with Care & Compassion
Hagemeister has the capacity to tackle large scale clean-ups others can't. We can drop off large WinBins onsite to help save time and money for large scale clean-ups. In many hoarding situations there is a limited window to tackle the mess.
We are experienced to deal with these situations in a professional manner. Emotions can run high and often times the hoarder themselves can experience a range of emotions watching the contents get cleaned up. We've seen it before and know how to handle these situations with care and compassion.
Free, No-Obligation Estimate Before Any Junk Removal
Hover over the fractions to help picture what your estimated removal price is.
Frequently Asked Questions
What Our Customers Are Saying…
Great communication. On time. Called before they came. Polite. Clean. Fair pricing.
Adam Pagtakhan
2021-11-19
Arrived basically at the beginning of the time range they said they would, which in my experience, isn't generally the case. Were super professional, efficient, and accomdating as I kept adding more junk to the job on the day of. Highly recommend.
Amazing and affordable! They came the same day and were done clearing out the entire garage in less than an hour. Definitely 5 stars!!
They were willing to come within 1-2 hours after I called. We needed someone quick, and I'm sure they would have shown up as they were planning to. We had to cancel as a relative was able to come over with their truck. Will definitely use them when I need anything hauled away again!
Michelle Bergen
2020-11-08
This is the second time that I have used Hagemeister Hauling for junk removal. Ryan is super responsive, friendly, great to work with and the rates are very reasonable.
Spoke with Ryan, quoted and had a truck at my place first thing the next morning. Price was right, service was awesome and convenient.
it's a good service I ever have, I call to rent a 20 yards bin, they bring the bin ontime set up, when we done, I call to pick it up, they come to pick up right away. yes, I reference this service to anyone.
Very professional, prompt and courteous. The value for service is great too.
Was able to book quickly and was very impressed with the work. They were punctual, polite, and very efficient. Would definitely book them again.
Michael Phillips
2020-06-16
I have used this service multiple times and it is consistently high quality professional service. They make it real easy start to finish. Highly efficient
Hagemeister Hauling is ready to take care of your needs today!
Monday-Friday
7:00AM - 9:00PM
Saturday-Sunday
9:00AM - 5:00PM
Call text or e-mail Hagemeister today. Send us a picture of your waste or junk. Our experts will provide an upfront price and our next available opening.